Features

Features of the Walkin' Rear Support Leash
The Walkin' Rear Support Leash is designed to support your dog's hind end.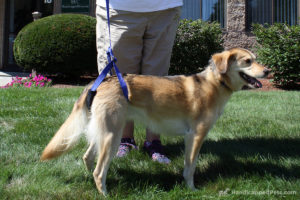 Assist aging dogs to rise from a lying down position
Assist aging, disabled, or injured dogs walking up/down stairs
Steady pets who are unstable on their hind legs
One size fits dogs 20-150 lbs.
Adjustable leg pads and leash handle length
Do NOT attempt to completely lift your dog's legs off the ground with this leash!
One sizes fits dogs 20-150 lbs!
Photos
Buy Now!
A support leash to assist aging or disabled dogs from a sitting position to a standing position, or while walking!