Some pets don't need to use a wheelchair permanently. Be it physical therapy, surgery recovery, or an illness, there are many situations in which you may only need a Walkin' Wheels Wheelchair for a short time. We can help with that! With the Dog Wheelchair Rentals Program, you can ensure that your dog gets the care it needs.
Before you go any further, check with your veterinarian. Animal hospitals and rehabilitation facilities stock Walkin' Wheels Wheelchairs to lend or rent out to their clients. Your veterinarian also knows the needs of your individual dog, and will be able to best advise you on how to use the Walkin' Wheels Wheelchair and aid in its recovery.
With our rental program, we seek to find a simple, convenient way to make Walkin' Wheels wheelchairs available for short term use without the complexities and problems normally associated with rental programs. Our top priority is your pet's wellbeing, and that starts with being able to get the right products to you in the most efficient way possible.
How the 6-week program works:
Order a Walkin' Wheels Wheelchair with our Guaranteed Buyback Option. Simply proceed to the checkout with your wheelchair and choose the "rental" option at the checkout.
Receive a factory refurbished, guaranteed quality Walkin' Wheels Wheelchair for your pet to enjoy!
Now you've got two options to choose from:

Option #1: When you are ready to return your Walkin Wheels Wheelchair, call us at 778-809-7421 to notify us that you are returning your rental at the end of your 6-week (Minimum) period. A representative will issue you a "Short Term Use Return Materials Authorization", which allows you to return the Walkin' Wheels Wheelchair. Return it to us within 6 weeks in good condition, and you'll get up to 50% off the product purchase price back. The rental rate after the six week period is $25.00 per week on small carts and $45.00 per week on larger carts. This amount will come off of your deposit, and once you've had the cart for approximately 12 weeks, the deposit will be used and the cart will be yours.

Option #2: Keep the Walkin' Wheels Wheelchair! We understand that sometimes, life doesn't work as planned. If your dog continues to need the Walkin' Wheels Wheelchair, then there's nothing more you need to do; it is all paid for.
Pricing for rentals:
The price is based on the size of the strut and wheel that your pet needs.
Walkin' Wheels Wheelchairs:
Small: $299.00-$353.95 (plus shipping)
Medium & Large: $499.00-589.00.00 (plus shipping)
Front Attachments:
Small Front Attachment: $205.00 (plus shipping)
Medium & Large Front Attachment: $250.00 (plus shipping)
To rent or purchase a Walkin' Wheels Wheelchair, just choose your wheelchair and proceed to the checkout. The rental option can be chosen at the checkout.
Please specify either over the phone or in your online order that you are looking for a rental unit, otherwise it will be treated as a sale of a new unit.
Note that rental units come only in blue and come with foam tires.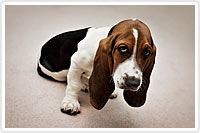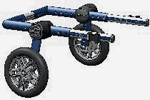 Many people have asked for a rental program where they pay some amount per week while they use the cart. This is the kind of program we are encouraging your veterinarian to offer because they are local and know you. We rent our carts right across North America, so there's no way we could make this work without requiring significant deposits and very complex and time-consuming management.
When returning your rental cart please include our RETURN MATERIALS AUTHORIZATION FORM found on our Rentals and Policies page with a RMA # from us when you call our office. Any and all shipping fees and charges are the responsibility of the renter/purchaser.
Please make sure you tell us you're looking for a Rental Unit when placing your order or it will be treated as a new unit sale.